True Veggie Lover's Pizza - Step by Step
These days, as my kiddo's are going crazy for Pizza nights, I am finding ways to sneak in the most veggies and fruits into Pizza. I always love
Papa Murphy's
Take 'n' Bake pizza concept, where they prepare the crust and toppings and give us directions to bake it. After coming home in 15 min you can have customized pizza ready for you. Even with this one, the variety and amount of vegetables that are topped are limited. So today I have decided to make pizza loaded with vegetables in my style, so it is called 'True Veggie Lover's' Pizza.
True Veggie Lover's Pizza
Today I let my kids participate in this pizza experience by letting them arrange all the toppings on pizza. I should admit that, they did a very good job and I can see the pride in their eyes that they have helped amma (mom). When Daddy is home, they are all over him, sharing their experience in making pizza, and Abhi kept telling him that he made a pizza for, Amma!!!! ( I think Daddy should get some hints from his emphasis ;-))
Here is the recipe for you, Njoy!
Ingredients:
Pre Made Pizza Crust - 1 medium
Marinara Sauce - 2/3 cup
Mozzarella Cheese - 2/3 cup
Cheddar Cheese - 1/3 cup
Egg Plant - 1 medium
Chopped Spinach - 1 cup
Red Bell Pepper - 2 Tbsp
Orange Bell Pepper - 2 Tbsp
Yellow Bell Pepper - 2 Tbsp
Red Onion - 1/2 medium
Tomato - 1 medium
Pineapple - 1 cup
Black Olives - 1/2 cup
Step by Step Directions:
1. Chop Eggplant, Red Onion, Tomato into thin round slices. Chop the Bell Pepper and Spinach into medium chunks. Drain the Pineapple Cubes and Black Olives slices and keep aside. (I have used the Canned Pineapple and Black Olives.)
2. Place the Pizza Crust on a flat surface. and deliberately apply the marinara sauce.
3. First Place all the Round Slices. Eggplant Rounds, Tomato Rounds, and Red Onion Slices.
4. Next Place the Chopped Bell Pepper and Spinach.
5. Then place Pineapple chunks and Black Olive slices.
6. Finally Top with Mozzarella and Cheddar Cheese Mix.
7. Bake it in the oven at 400 F for 15 to 20 minutes on the center of the medium rack. As it is loaded with vegetables, you have to bake it little longer than the directions said on the crust. And at the same time make sure you don't get the cheese burnt or browned. Cheese supposed to melt and bubbled. My Kids love anything little crispy so I finally Broiled on High for 1 min to get that effect ( this is optional).
8. Now Enjoy your yummy yummy 'True Veggie Lover's pizza' loaded with vegetables.
Hmmm, Yum Yum, the egg plant and red pepper gave such a unique taste to this pizza. Juicy Pineapple and Black Olive leaves such a nice taste in your mouth. Mouth Watering..... Don't wait and just bake it for yourself and experience this Veggie Lover's Pizza.
Now I don't have to be after my kids to eat those vegetables, as they made it, they finished all their pizza with that excitement.
'Yehhhh, We did this Pizza for Amma!'
Note:
1. I have used Costco Premade Pizza Crust which came withe marina sauce, however as that is not enough, I have added some RAGU marina sauce.
2. For Pineapple and Black Olives I have used the Canned Ones, if you get fresh ones you can certainly use them
3. For the vegetables, I have just used what ever is in the refrigerator. You can use (replace with) other vegetables also, like Zucchini, Broccoli, Basil, Artichoke Hearts or Mushroom. Just go wild with your vegetables. ;-)
I am sending this recipe to
Savory Sunday
@ Eating at WinniPeg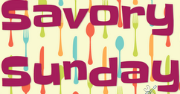 Take Care until Next Time
-Mythreyi