Stuffed Banana Pepper / Bangalore Mirchi
I am surprised to see lot of Banana Peppers here in Bangalore these days. The mirchi bajji on the road side stalls also uses this pepper for mirchi bajji. As the name states, not only it looks little yellowish, long and plump like banana, but tastes not spicy. As you all know how i prefer healthy meals than deep fried food ( healthy is an excuse, actually I am lazy to make any deep frying stuff ;-) ) instead of making the usual 'mirchi bajji' with it, today I made 'yummy for tummy' and 'feast to eyes' curry with it. Here I am sharing the recipe for cute 'Stuffed Banana Peppers', Enjoy!!!!
Stuffed Banana Pepper
Ingredients:
For Stuffing:
Sesame Seeds - 1 tbsp
Roasted Chana Dal ( Putnala Pappu) - 2 Tbsp
Corainder Powder - 1 tsp
Fresh Grated Coconut - 2 Tbsp
Ginger Garlic Paste - 2 tsp
Chopped Onion - 1/3 cup
Green Chili - 2 or 3
Butter - 1 Tbsp
salt - 1 tsp
cayene pepper ( Red Chili Powder)- 1 tsp
Banana Pepper - 4
Canol Oil - 1 Tbsp
Cilantro - 1/3 cup ( for garnish)
Method:
Wash the peppers and pat them dry. Cut them into Half and make slits and set aside.
Grind the Sesame Seeds, Roasted Chana Dal, Coriander Powder, Grated Coconut, along with salt and Red Chili Powder.
Take non stick pan and heat the butter, once the butter melts, add chopped green chili, followed by chopped onions. Once the onions are cooked ( becomes translucent), add ginger garlic paste and then add the grind-ed powder to it.
Once the mixture gets cooked add some cilantro for nice aroma get infused into stuffing. Taste and adjust all the seasonings accordingly. Now we are done with making stuffing.
Take the Wide pan and heat the oil, stuff the peppers with stuffing and place them into pan. Close the lid and cook for some time. Turn them on the other side and let them cook on the other side also. Now Add the remaining stuffing on top close the lid and let it simmer for 5 to 10 min allowing the stuffing in inside and outside to get cooked properly.
Now, Transfer them to plate carefully and garnish with remaining cilantro.
Look how Cute and Yummy they Look, Aren't they?
No doubt, These stuffed beauties makes your dining table more inviting for your family or guests. Try it out and let me know....
Tip:
Adjust Cayene Pepper and Salt accordingly to your taste. I have used less or moderately. If you want to spice it up, increase quantities step by step and adjust.
Banana Pepper is very tender in nature and gets cooked very easily.
If you don't have the fresh coconut, you can replace with dry coconut.
I am sending this recipe to
MizHelen's
Full Plate Thursday
Amanda's
Savory Sunday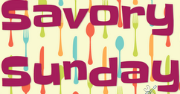 Have a Healthy Meal with your Happy family, See you Next Time,
Until Then Ba Bye
-Mythreyi